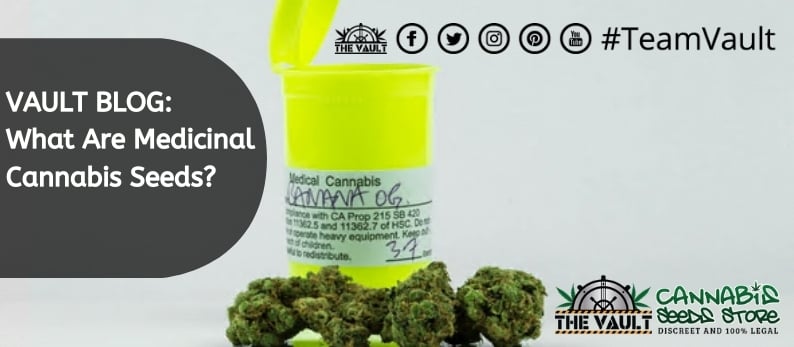 There are thousands of cannabis varieties available from all over the world. Some are Sativas and tend to have an active stone, others are Indicas and are usually more soporific and relaxed in nature, some are medicinal strains. Medicinal strains can be both Indica and Sativa depending on what they are used to treat. What separates medicinal cannabis from other normal strains?
Legality
Of course one of the primary differences between recreational and medicinal cannabis is the fact that medicinal strains have been rendered legal in certain places. This is usually due to the laws of the state and the way in which cannabis is being researched in that area. This means that depending on where a person lives there will be some strains and seeds that are legal for purchase, perhaps with a valid medical marijuana card, and some that aren't as they are considered to be recreational.
Medicinal Vs Recreational
Often the difference between recreational cannabis and medicinal cannabis is the THC strength and other effects of the strain. Medicinal strains tend to be lower in THC, the psychoactive element of cannabis. This is so medicinal patients who are using it to treat aspects of illnesses rather than to get high can still function well while medicated. This is especially prevalent in day time Sativa medicinal strains. These are usually used by people who suffer from chronic pain, muscle spasms, anxiety, depression etc. and who still need to be active and lucid. There are also strains especially for users who require medicinal cannabis to sleep. Again pain and anxiety are often large parts of this issue, but it is also for those who suffer from insomnia and other sleep issues. These users still need a low THC level so that they can get to sleep and remain soundly asleep without the psychotropic effects of the drug, which can worsen anxiety rather than soothe it.
Medicinal cannabis strains will also usually have high levels of CBD. The ways in which CBD and THC react with the body can be very different. THC will interact with receptors in the body that in turn interact with the brain creating the highs that we are used to with cannabis. CBD however, interacts with similar receptors in a different way. While THC causes a high CBD will interact with receptors responsible for pain, inflammation, digestion, sleep, mood and so on without removing the lucid aspect of the brain function. This means that strains high in CBD and low in THC are ideal for medicinal patients who are not looking to use cannabis recreationally but instead to use it as a replacement for a wide variety of less effective medications with possibly unpleasant side effects.
Most Popular Medicinal Cannabis Seeds
Northern Lights always has and likely always will be one of the worlds most popular medicinal strains. In fact, it is considered to be one of the most popular strains over all. She is well known for her incredible ability to relax the mind and the body completely. This strain is a pure Indica that was first bred in the 1980s. This strain isn't particularly low on THC and so will still have some psychotropic effects, which means it is definitely best used as a nighttime strain. This strain is also extremely easy to grow and very versatile, making it ideal for all kinds of growers. This strain is ideal for anyone suffering from stress, anxiety, depression, insomnia, or chronic pain.
Supreme CBD Durban was created specifically to be high in CBD and low in THC making it an excellent pain killer or seizure medication. The CBD and THC are actually exactly balanced at 8% each which gives it an extremely comfortable effect with just a hint of mental fluffiness. The overall feel of the strain is relaxing and comfortable with a smooth, sweet flavour that gives the user an all-round delightful experience. She grows quite quickly and extremely vigorously so growers need to watch her carefully. She is Sativa dominant which makes her an excellent day time strain but better for housework or creativity than getting out and about to run errands or go to work.
Carnival is just the kind of strain one might expect given her name. This strain is definitely not for use during a day when a lot has to get done but is great for a relaxing day off from depression and anxiety. Unlike most medicinal strains this girl has a THC level of 23% and is extremely psychotropic, but is often used for emotional issues rather than physical ones. During the day she is perfect for relaxing, unwinding and not letting constant anxiety issues or stress ruin your precious time off. In the evening she is perfect as a relaxing painkiller that is often used by those suffering from arthritis, glaucoma and headaches. She's definitely a different type of medicinal cannabis seed but she still does a bang-up job.
Cannatonic is a strain that really gives new meaning to medicinal cannabis. She is extremely CBD heavy at 10 – 15% and very low THC at 7 – 8%. This makes her perfect for those looking for a daytime pain killer or something to help with spasms, seizures, or inflammation. The effect is relaxing and happy but not soporific and she is often used to treat emotional or mental issues including PTSD, anxiety, depression, migraines and stress. She is definitely thought of as being one of the best medicinal strains on the market and is extremely easy to grow. Due to her resin production, she is perfect for making oils, butter, waxes and all sorts of other ways to ingest cannabis without smoking.
There are a number of different medicinal strains of all types, really it is hard to know exactly what will work for who right off the bat. It's always a good idea to speak to a doctor either about which cannabis would suit or just to see if there is something to diagnose before selecting a medicinal strain.
Remember: It is illegal to germinate cannabis seeds in many countries including the UK. It is our duty to inform you of this fact and to urge you to obey all of your local laws to the letter. The Vault only ever sells or sends out seeds for souvenir, collection or novelty purposes.
Make sure you never miss another Vault promo and sign up for our newsletter at http://goo.gl/Bt2Ba2