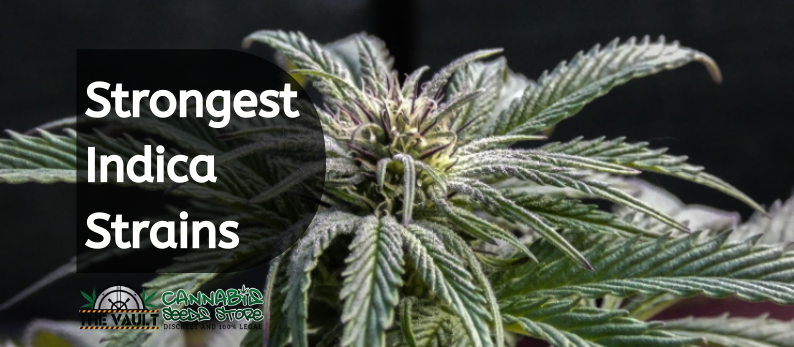 Indicas are well known for their incredible relaxation abilities as well as their use in treating anxiety, depression, insomnia, and pain. They are usually considered night-time strains or strains for vegetating on the couch with snacks and a film. Like any strain type, there are varying degrees of intensity within Indicas. Some that will provide the slightest chillout and others that will knock the block off a large horse. For those of us who prefer something more towards to horse end of the spectrum, here are just a few of the strongest Indica strains on the market today.
Wedding Gelato
This lovely combination of Wedding Cake and Gelato 33 is Indica dominant and seriously powerful. The effect is super relaxing and the THC level is around 25%. The flavour is extremely impressive and balances beautifully with the intense effect. It is uplifting, euphoric and extremely relaxing which makes it a great weekend strain. It also makes it ideal for medicinal users who need help with their insomnia, pain, depression, anxiety and stress. This strain is just as exciting, delicious and festive as it sounds. She will grow extremely well indoors and outdoors, making her ideal for all sorts of growers.
Royal Cookies
Another tasty-sounding strain, and another brain bludgeoning Indica. Though her high is strong, with a THC level of 25%, she also provides and happiness and an uplifting feeling that beautifully balances the heavy, full-body stone. It keeps the mind calm and serene while allowing the body, especially the muscles, to relax fully. Perfect for anyone suffering from stress along with pain or muscle spasms. However, her power is not to be taken lightly and new smokers should be careful to start with. She grows well indoors, outdoors and in greenhouses making her perfect for all types of growers.
Aurora Indica
Aurora is an impressive beauty and an extremely powerful Indica. In fact, some have claimed that she is the strongest Indica strain available. She was created by combining two legendary strains, Northern Lights and Afghan. Her high has definitely been described as "couch-lock", meaning that she will completely relax the body to the point where its going to be hard to get up. Before smoking probably ensure a good amount of snacks and liquids are gathered around, oh and the tv remote. This strain grows beautifully outside and usually gets pretty darn tall. The scent of the plant is delightfully earthy and soft, adding to the relaxing effect of the smoke.
Kosher Kush
This Cali strain has a mysterious heritage, but it is certainly one of the strongest Indica strains available. Usually, it's THC levels sit between 20 and 25%, the effect itself is delightfully sleepy and ideal for nighttime use. Despite being soporific, this strain is uplifting and happy which makes it perfect for anyone who suffers from insomnia, anxiety, or night terrors. For those who struggle due to PTSD, it can be an excellent sleep aid. Since she is uplifting if smoked in moderation she is ideal for relaxed socialising and laid-back conversation. She is also an extremely versatile plant which makes her easy to grow and perfect for all levels of grower.
Critical Kush
This wonderful strain is a combination of Critical Mass and Emerald OG Kush. The THC levels for this strain are usually between 15 – 20% but it still has a decent amount of power behind it. The effect of this little lady is full-body relaxation, very physical sedation that is perfect for snoozing on the couch. It is also soothing which makes it perfect for stress and anxiety. She grows well indoors, outdoors or in a greenhouse and this particular version is also feminised. This means she is ideal for all levels of grower.
God's Gift
Though this strain may come off as a little boastful, it is pretty much what it says on the tin. This strain has been around since the 90s and is well known for its incredible Indica power. Initially, the effect is surprisingly upbeat and bubbly with nice giggly happiness that is excellent for socialising. However, it is dangerous to take this at face value, over time the high grows heavier and eventually leaves smokers completely shackled to the couch. If using this strain definitely pre-prepare for when the mighty Indica side hits. This strain has won itself and award or two, unsurprisingly, and is definitely the perfect strain for Indica fans.
Barbara Bud
Though we are certainly not ending with the most powerful of the Indica heavy hitters, we are definitely closing the list with one of the loveliest strains. This gal is sweet-smelling, amazing to look at, and despite not having the highest THC levels imaginable she still does some damage. She has won a veritable smorgasbord of awards and is well known for her initial creative buzz leading slowly into a soft, sleepy niceness. She is often used medicinally and is prescribed to those suffering from depression, insomnia, muscle spasms, pain and stress. The yields are impressive, the scent is smoky but sweet with a hint of spice, and can be grown indoors or outdoors. Her lineage is a combination of Shishkaberry and a popular Afghani landrace strain, so it's hardly any wonder that she is such an impressive specimen. She is a perfect after-dinner strain to enjoy dessert, a film and then a lovely, restful sleep.
These are just some of the amazing hard-hitting Indica strains that are currently on the market. There are quite literally hundreds of impressive strains that will be perfect for those of us who love the sleepy, relaxing beauty of a good Indica. As always we should all do our research to ensure that we are purchasing the very best strain for us. Remember to also look into the growing habits of the strain and so on before picking, not just how horse knocking strong it is.
Remember: It is illegal to germinate cannabis seeds in many countries including the UK. It is our duty to inform you of this fact and to urge you to obey all of your local laws to the letter. The Vault only ever sells or sends out seeds for souvenir, collection or novelty purposes.
Make sure you never miss another Vault promo and sign up for our newsletter at http://goo.gl/Bt2Ba2