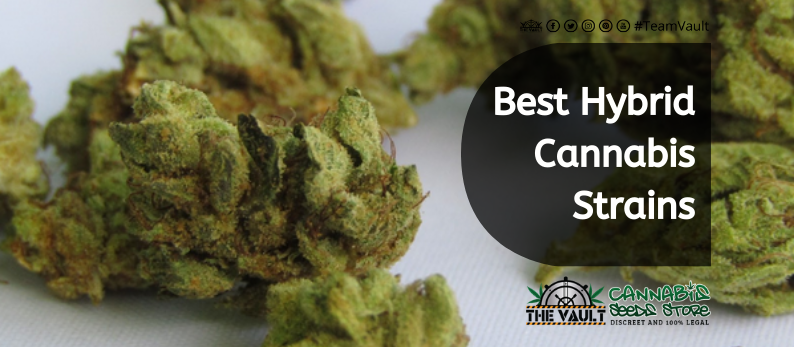 It can be difficult to choose between classic, original strains and hybrids. Of course, the classic strains have their charm. They've been around for decades and they are tried and tested by the cannabis community. With classics we know what we are getting, safety can be very appealing. However, hybrid strains are new, exciting and created specifically to be impressive. Hybrids take the best parts from the very best classics and bring them together into a fabulous parcel of amazingness. If we want the yield of one strain and the high of another, we can just create a hybrid. This list contains just a few of the best hybrid strains that are currently on the market. Of course, there are plenty more where these came from.
This tasty hybrid is a combination of Chocolate and Cream, which may not come as a surprise. Chocolate Cream is a high performance, high yielding, and grows vigorously. The only thing is that the plants can get a little on the leggy side and may need a trim from time to time. This strain is Indica dominant and has a THC level of around 20%. The effect is cerebral and relaxing but definitely has a soothing physical side to it. This makes it an ideal evening strain for watching a film, doing some yoga or just drifting off to sleep. One of the best things about this strain is the smell, it smells strongly of chocolate, again not a surprise. Chocolate Cream has a flowering time of 55 – 60 days and can be grown indoors or outdoors.
This baby is a little different, a superb Sativa dominant strain with a powerfully fruity flavour. To be fair Cinderella 99 is a combination of Pineapple and Grapefruit. Not only did it take on the scent and flavour but also the fast flowering time and the powerful and happy high. The effect is long-lasting, stimulating, uplifting and creative. This is a great day time strain for getting a craft project done finally or for hanging out with friends. This is also a great strain for those who struggle with depression or anxiety. Cinderella has a flowering time of 7 – 8 weeks and can be grown indoors, outdoors or in a greenhouse.
Sour Lemon OG is a hybrid of California Sour and Lemon OG. She has a slightly longer flowering time but is definitely worth the wait. She is a vigorous grower with an uplifting high and an impressive yield. It is a well-structured plant but due to the massive yields, she is quite dense and can be prone to mould. If she is given lots of ventilation and plenty of attention she should be fine. The effect is talkative, uplifting and stimulating which makes it ideal for socialising. Sour Lemon OG has a peppery but citrusy flavour that is just as perky and uplifting as the effect. This strain can be grown indoors or outdoors and has a flowering time of 10 – 11 weeks.
This strain was created by combining Central American genetics. The result is a Sativa dominant strain with super high levels of THC. The effect is powerful and long-lasting but also relaxing and euphoric. This makes it a perfect evening strain for anyone who is having a stressful time and since it's 2020 that's literally everyone. Acapulco Gold is also an award winner and won 1st place at the Sativa Cup in 2010. The flavour is strong and fruity which adds perfectly to the uplifting feeling of the strain. This is the poster strain for taking on the best parts of the genetic cocktail that created it. She flowers in around 60 – 70 days and can be grown indoors, outdoors or in a greenhouse.
Wild Rose is a cross between Rosetta Stone and The Hog, two wonderful strains. The resulting strain is a gorgeous Sativa dominant award winner. She won 1st Prize – Interior – 9 th Cannarian Cannabis Cup – 2009 – Lanzarote. She also gives impressive yields of large buds covered in a layer of sparkling resin. During flowering, she is resistant to fungus which means she's great for outdoor growing. The effect is euphoric but motivated with a hint of clear-headed energy. The flavour and scent are fresh and citric, perfectly complimenting the high. She takes 9 weeks to flower and can be grown indoors or outdoors.
I'll be honest, I'm putting this strain next in the list because the contrast between the names made me laugh. It is also an amazing hybrid that was created by combining Sweet Skunk and Red Auto. Blood Skunk is also perfectly balanced between Indica and Sativa which creates a delightful effect. It is both relaxing and uplifting with a deliciously lingering full-body stone. This strain is also very potent and produces amazing yields, but is easy enough for beginner growers. It is especially good for outdoor growing or growing on a balcony because it is small and sneaky. It's a bit of a shame to keep it hidden though, its lovely purple colouring is something to behold. Bloody Skunk takes just 8 weeks for flower and will grow well indoors or outdoors.
This final hybrid is a cross between Strong, Stuff and Dude which is delightful. Strong Stuff is exactly what it says on the tin, with a THC level of 20% it has a powerful effect. It is also a well balanced Indica/Sativa so the high is uplifting, euphoric and relaxing. Strong Stuff is often recommended for those who are suffering from pain, stress, depression, lack of appetite, and nausea. The couch-lock is strong with this one and she definitely should only be used in the evening or when there's nothing else that needs doing. Also, make sure that the remote and the snacks are in snatching distance. The scent is fruity and sweet, the plant is a lovely purple colour, and she produces impressive yields. This strain can be grown indoors, outdoors or in a greenhouse.
Remember: It is illegal to germinate cannabis seeds in many countries including the UK. It is our duty to inform you of this fact and to urge you to obey all of your local laws to the letter. The Vault only ever sells or sends out seeds for souvenir, collection or novelty purposes.
Make sure you never miss another Vault promo and sign up for our newsletter at http://goo.gl/Bt2Ba2