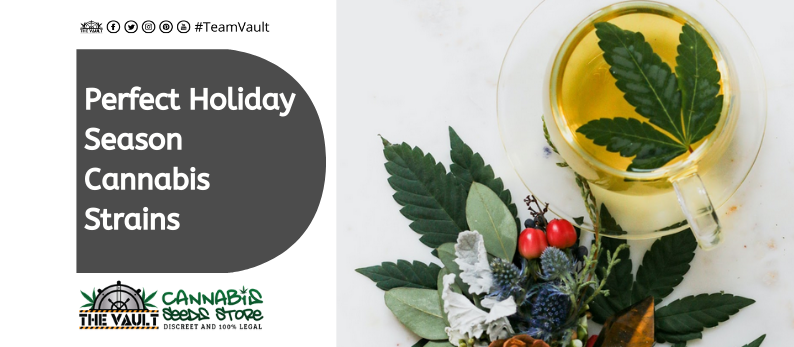 As we come up to the holiday's things can get a little stressful, especially this year. Usually, we have to deal with gift buying, gift receiving, talking to unpleasant relatives, all the rest of the bits and pieces. This year we have to think about travel, weighing up safety and seeing families, being stuck far away from loved ones. Basically, this is likely to be one of the most stressful holidays we've seen in a long time. As my gift to all of you beautiful people, here is a list of the very best strains to help us get by this festive season.
Cookies 'n' Cream
This is the perfect cookie to leave for Santa, he will have no trouble getting himself around the world in one night with this strain. This is considered to be one of the finest hybrid strains on the market. She was created by combining Girl Scout Cookies and Caramel Cream. The effect is relaxing and soothing but also uplifting and focused. It is also used as a medicinal strain for those suffering from headaches, insomnia, anxiety, muscle spasms, stress, pain and lack of appetite. This also makes it great for anyone who is getting stressed out trying to prepare for the holidays. This strain makes it easy to relax while still staying on top of the todo list. Cookies 'n' Cream is also a delicious strain, the flavour starts off a little earthy but a vanilla sweetness drops in pretty quickly. This strain has a flowering time of 8 weeks and can be grown indoors, outdoors or in a greenhouse.
Blueberry Cheesecake
Another tasty treat that has a deliciously balanced effect and great medical benefits. She was created by crossing the infamous Cheese strain and a Blueberry hybrid. This strain is an Indica/Sativa hybrid with a relaxing and uplifting effect. Once again this is a strain that is recommended for depression and stress, perfect for the holiday season. Blueberry Cheesecake is also great for back pain and migraines. It will allow users to relax and feel good whilst still getting things done. The flavour and the scent are probably the most famous aspects of this strain. A combination of the deliciously sticky sweet blueberry and the potent, powerful cheese aroma. This strain manages to be tangy, rich, creamy and sweet all at once. She will flower in just 60 days and can be grown indoors or outdoors.
Cornbread
There is definitely a bit of a link going on between these strains, probably because all I think about around the festive season is food. This combination of Katsu Bubba Kush and Rare Dankness #2 is an Indica heavy trichome covered super strain. Cornbread is best known for its amazing yields, but also for its thick coating of THC filled resin. Impressively this strain actually tastes a good deal like cornbread followed by a refreshing citrus aftertaste. The effect is superbly relaxing, great for after a long day of shopping or cooking. The effect comes on slowly and steadily, like sinking into a hot bath rather than being smacked in the face with one. This strain has a flowering time of 60 – 65 days and can be grown indoors, outdoors or in a greenhouse.
Cherry Pie
Ok, this is the last food one I promise…well maybe I'll see how I feel. Maybe I should have a snack. This strain is a calming Indica dominant beauty that comes recommended for stress and anxiety. She is soft, soothing and relaxing with a happy tilt that is perfect for just enjoying the company of loved ones. Or potentially for enjoying a video call with loved ones. The effect is also long-lasting and not too aggressive. Once again her flavours are sweet and sugary with hints of the Skunk parentage coming through in the scent. As she grows she takes on a beautiful purple hue and develops a glittering coat of trichomes. Cherry Pie will usually take around 56 – 70 days to flower and can be grown indoors or outdoors.
White Rhino
This strain is both beautiful and comfortable, a perfect winter plant. She is a powerfully relaxing and uplifting hybrid that enjoys nothing better than aiding cosy fireside evenings. She is a well balanced Indica/Sativa which gives her the best of both worlds effect. This means she is not just perfect for snuggling up under a blanket and watching the snowfall outside. She is also excellent for combating seasonal depression and anxiety. The plants themselves are bright green with White Widows trademark coating of glittering THC resin. The scent is strong but subtle, a combination of bark and earth. White Rhino needs just 8 – 9 weeks to flower and should really be grown indoors or in a greenhouse.
Northern Lights
This list simply would not be complete without this comfy winter classic. Northern Lights is one of the most famous strains on the market, and with good reason. She is powerful but relaxing and extremely soothing with a little uplifting flourish. This basically means she can turn any mood, any stress and any anxiety to a buttery pool of chill happiness in seconds. She has an earthy aroma and is well known as a sleep aid for those who suffer from pain, stress or insomnia. She has a high THC level of 23%, so is definitely a 'wind down once everything is finished' sort of strain. Northern Lights is for putting on a favourite festive film, brewing up some mulled wine, and just lying back under a blanket. Ideally snuggled up with a pet, or failing that a loved one. This version of Northern Lights is autoflowering and has a flowering period of just 55 – 60 days from germination. She can be grown indoors, outdoors or in a greenhouse.
So there we have it, a list of all the best strains to enjoy this festive season. Hopefully, we can all relax and experience a slice of normality amongst all of the chaos this year.
Newsletter Sign Up
Make sure you never miss another Vault promo – sign up for our newsletter at http://goo.gl/Bt2Ba2
Remember: It is illegal to germinate cannabis seeds in many countries and some remote, less enlightened planets outside the core systems. It is our duty to inform you of this fact and to urge you to obey all of your local laws to the letter. The Vault only ever sells or sends out seeds for souvenir, collection or novelty purposes.