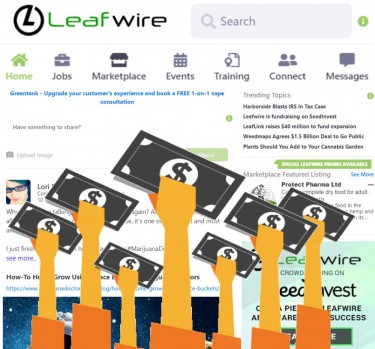 We wanted to catch up with our friends over at Leafwire and see what's new for the end of 2020 and what they're looking forward to in 2021.
I think we can all agree that we're happy to see 2020 coming to a close, but we'd love to hear any of the positives that Leafwire saw come out of such a tumultuous year.
Yes, that's for sure, but we did definitely experience some highlights this year:
Well, I think the proof is in the numbers. Two of the KPI (Key Performance Indicators) that we measure at Leafwire are number of members and engagement.
In regard to the number of members, we've had more than 36,000 members join and create profiles, representing 15,000 companies. Since the beginning of 2019, we've grown from a little more than 4,000 members to now more than 36,000 members. That's more than 8X growth.
In regard to engagement, we look at MAUs (or Monthly Active Users) and since the beginning of 2019 to today we've seen a 5X growth, from 5,000 MAUs back in the beginning of 2019 to 25,000 MAUs now.
We've been really excited to watch the growth in both of those KPIs.
And of course, we're super excited to have launched our crowdfund on SeedInvest!
Yes, I've seen that news over the last week. Can you please share some details about what your crowdfund?
We recently launched a campaign and I'm excited to say that we're already raised more than 50% of the minimum required, so for anyone interested, I encourage you to invest early.
Just go to https://www.seedinvest.com/leafwire/seed for all the details.
Why crowdfunding versus other fundraising avenues?
There were two primary reasons we were really excited to launch a crowdfunding campaign.
First is that a Reg CF (Crowdfunding) fundraise allows the general public to make investments in startups like Leafwire with substantially lower minimums than other types of fundraise. A Reg D fundraise is only open to Accredited Investors and companies typically have minimums of $25,000 or higher.
Reg CF was passed to enable crowdfund raises to be open to everyone, so you don't have to be an Accredited Investor or part of a Venture Capital Firm. So everyone is on an even playing field to get in and make an investment.
Second, a Reg CF raise typically involves a much larger group of people. So let's say hypothetically, you have 1,000 people make an investment in your company during a Reg CF raise. You then immediately have 1,00 ambassadors and cheerleaders for your company who will go out there and promote your company to their friends and maybe even become some of your best users or customers. So it's an automatic group of 1,000 brand ambassadors, as a side benefit of a crowdfund.
Since Leafwire is a consumer-facing platform, it's important for us to have a strong group of promoters and supporters.
That sounds like a huge benefit and I can see why you chose to launch a Crowdfund. Now let's look forward. What are you and Leafwire excited about for 2021?
Well, I think a few things happened this year that make me really excited to see where the industry goes next year. First we saw a slew of cannabis-tech companies raise very large rounds, which helps set a benchmark for what types of rounds are possible for Cannabis tech companies. For example:
LeafLink, an online cannabis wholesaling platform, just announced they raised $40 Million in a Series C raise, bringing their total amount raised to $90 Million.
Dutchie, an online ordering platform for cannabis retailers, raised $35 Million in a B Round
Fyllo, an online media and compliance platform, raised $10 Million in a Series A2, to raise their total raise to $26 Million
Wow, that's an impressive run for the cannabis tech space? And I'm sure Weedmaps is on that list?
Yes, of course. That one is still underway, so I didn't include it, but the fact that they are aiming to go public on the Nasdaq for a valuation of $1.5 Billion, sets the bar even higher. Weedmaps is another example of a cannabis tech platform that has soared in value, or at least their proposed value, and is really exciting for the rest of us in the industry to see.
How could our readers learn more about Leafwire?
Well, first, for anyone who's not a member yet, please come to https://www.leafwire.com/ and create your free profile. We'd love to have you join our community.
Also, for anyone interested in learning more about our crowdfund on SeedInvest, please visit:
https://www.seedinvest.com/leafwire/seed
There's a discussion board on SeedInvest, as well, where you can post questions about Leafwire or our fundraise and I can answer all of those questions directly.
I look forward to connecting with everyone both on Leafwire and SeedInvest.
Leafwire is offering securities under Regulation CF and Rule 506(c) of Regulation D through SI Securities, LLC ("SI Securities"). The Company has filed a Form C with the Securities and Exchange Commission in connection with its offering, a copy of which may be obtained at https://www.seedinvest.com/leafwire
WHO IS THE CEO OF LEAFWIRE, PETER VOGEL? WATCH MORE…
WHO IS PETER VOGEL OF LEAFWIRE, WATCH THE INTERVIEW LIVE!